Originally posted 3 July 2013
Let me introduce you to an outstanding artist, Ed Pretty. I love his work, all of it, always have and always will. Unfortunately because the medium he uses was a trade for many years most people still consider it a craft rather than art. It seems that most people don't view something as art unless it hangs on a wall. Hogwash! I say.
The type of artist I'm speaking of is a "Wood Artist" or "Woodturner." Woodturning is most commonly known for making spindles, table legs, salad bowls, that sort of thing. Only recently is it starting to be considered as an art form rather than just a craft. If you don't believe me, check out the instant gallery at any of the AAW (American Association of Woodturners) symposiums to see for yourself.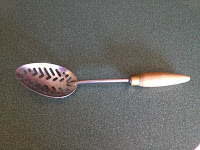 One of Ed's first turned pieces was for his mother Ella. She needed a new handle for her slotted spoon, so Ed made one for her. He recalls he was about nine years old at the time. That's just a few years ago 🙂 62 to be exact.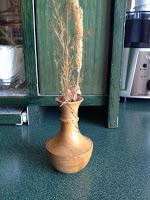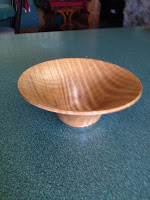 I remember the first turning I received from Ed.  It was back in 1997 as a Christmas gift when we were working together.  I was lucky enough to get one the following year as well.  I love these little pieces, they still sit proudly on a shelf in the bedroom.




Ed was getting bored with "round and brown" as he puts it, so he started coloring wood to enhance its natural beauty, not cover it up.  He uses dyes rather than paints or stains on most of his pieces.  Painting will cover up the wood completely.  Stains sit on top of the grain, which isn't an undesirable trait depending on your goal.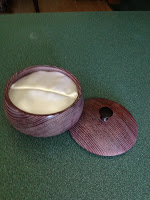 He made a lovely colored bowl for a very special occasion in July 2002. His wedding. It is a lovely burgundy color piece that has been enhanced by "lime-waxing" making it a combination of burgundy and white. Inside there are satin ring slots. The young fellow, his step-son, who was his ring bearer carried this piece instead of the traditional small pillow. It also has a "special" spot in his house.
The "That's Not Leaving the House Collection" was born when Ed made a gift for a friend. He calls it "Harmony." It has become his signature piece. It is a combination of round and square, black and white, large and small, old and new. It is a lovely piece thwarting all traditional woodturning techniques and styles. His wife liked it so much she said, "You'll have to make something else for a gift, that's not leaving the house." Thus the collection was born. It increases on a regular basis. His newest piece is struggling to make it to the gallery and not become part of this rare collection. He told his wife that if it sells, it's a cruise. How can you argue with that logic? 🙂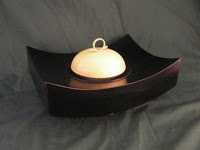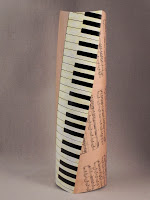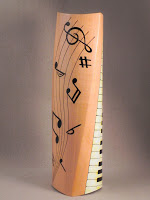 Ed's work has progressed over the years and is now something of a marvel. I'm still amazed at his most recent work. Having been there during the progression, I've become a large part of the idea, or brainstorming, phase for his newest pieces. Ideas and inspiration come from the strangest places and at all times convenient or not, doesn't matter. Sometimes it'll be on a cruise from a liquor bottle, or at a restaurant from a salt shaker on the table. Of course there is always the middle of the night "Light-bulb" or "Aha" moments that Ed thankfully keeps to himself.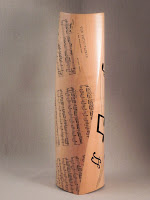 In case you're wondering how I happen to know about these middle of the night events, I guess I should tell you that Ed is my husband. I didn't forget to mention it, I chose to wait until now to give it more of a punch, so to speak. I also didn't want you to think I was biased or anything. 🙂
In keeping with the theme that art isn't art unless it's hanging on the wall, Ed now puts some of his work on the wall. What else is a guy to do? Some of these pieces are the most intriguing of all. At his show in November 2012, the wall pieces were the first to sell. I think this method is going to continue into something exciting. Stay tuned.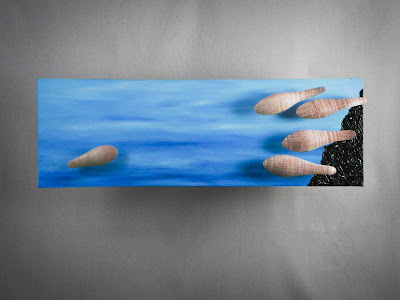 If you'd like to have a closer look at more of Ed's work. Check out his website. Ed's Woodturning You'll find it quite amazing I assure you. He also does commission pieces. If you are interested in learning to turn, he also does instruction in his shop at our home here in Langley, BC.

If you're a Facebook member, you can join our group called "Ed's Woodturning" or like us on Facebook at "Ed Pretty – Wood Artist"
What does the future hold? Who knows? We are always searching for new galleries and shows; getting the word out there and informing the public about woodturning as an art form, not just salad bowls and spindles. For the record, I don't have one single salad bowl in the house, but I do have a lot of "Wood Art" and hope to keep it that way for many years to come.