Just to keep everyone up to speed I thought I'd give you a quick summary of where we are. I had my regular screening mammogram in March, followed by a diagnostic mammogram, followed by an ultrasound, followed by a biopsy, diagnosed 29 May, followed by 2 lumpectomies, one on 8 June the other 27 July. Finally, onto the final stage of my treatment schedule.

The next step for me was going to be radiation, after the healing from the surgeries was complete. I was scheduled for my first appointment at the Cancer Clinic in Abbotsford in September. That was just a consult appointment with the radiology oncologist. It went well. As always there was lots of information and lots of questions. I then had the physical exam and was advised of the procedures to be followed. The doctor told me that I would have to have 3 little tattoos. He was about to ask if I would be okay with that when he noticed I already have a rather large one on my leg. 🙂

The next step was to come in and get the setup for the series of 16 radiation treatments that were to follow. That required having two technicians position me on a table set up exactly as the radiation tables are. Once in position, they then did a CT scan to be sure that everything lined up. The hardest part about this whole this was lying completely still. Of course, you know what happens when you try to do that…you get an itchy nose, or have to sneeze. Well, almost on schedule my nose began to itch. Oh well, hold still! It only lasted a couple seconds, so that was fine. Oddly enough once I could move my nose wasn't itchy anymore 🙂 Then came the tattoos. They are three tiny dots. Only I know they are there. Largely because of where they are, and because they are so small.

Then I was given a tour of the facility and the procedures for each of my visits. I was given a cubby to put my things in during the treatments and was to keep my gown there for the week. Saves on laundry and makes a whole lot of sense to me. I was also able to keep my Glaxal lotion there to apply after every treatment. Highly recommended. Sure helped the skin heal. So now I'm all set.

The first day it is all a mystery, even though I'd been through the tour and the step by step instructions from the staff. It was a little scary, not really knowing what was going to happen. Well, it wasn't that bad at all. The treatment itself only lasts couple minutes. The longest time is getting set up. After the first day it was a piece of cake. The technicians were great. All in all, not a bad experience at all. Again the hardest part was being completely still during the treatment. If you move, the wrong area would be radiated and no one wants that!

I was one of the lucky ones. My treatments weren't bad at all and my skin held up quite nicely. I have a permanent tan under my armpit and around the breast, but no one is the wiser. My first mammogram after 6 months was clear. I have to go for diagnostic mammograms from now on, no more screening mammograms for me.

I can't say enough about the treatment I received from all the professionals involved in my care. They all were fantastic, knowledgeable and gracious. I can't stress enough about getting your mammograms regularly and annually! If you find anything unusual on your own, or your partner finds it 😉 get it checked out immediately. Don't panic, but get it checked.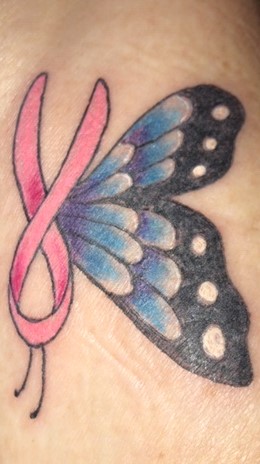 I celebrated after my surgeries, treatments and healing were all done by getting a new tattoo. My kids, their partners and my new grandson gave me the $$$ as a Christmas gift to have it done. I waited until June to actually have the tattoo done. Waiting for the right time and place to have it done of course. It is proudly displayed inside of my right wrist. I love it!

I couldn't have done any of this without the love and support of my family and friends. Their support means the world to me. From my kids being there and listening, even though at times I'm sure my woes was the last thing they wanted to hear, to my friends checking in weekly to see how I was doing and most of all to my husband Ed for being my rock through all of it. He was at my side for every appointment and every up and down that we went through. For any of you who have to go through any form of cancer, please always remember you aren't the only one going through it! It affects every one in your circle, and even some on the outside of it. Just always try to remember…no one fights alone!